Maureen M. Berner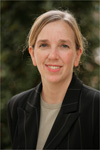 Professor of Public Administration and Government
919.843.8980
Areas of Expertise
Public administration; program evaluation; research methods and survey methodology; applied statistics; budget preparation and enactment; citizen participation
Profile
Maureen Berner first joined the School of Government in 1998. She teaches evaluation and analysis courses for MPA students, and provides similar training and advising to state and local government officials throughout North Carolina. Her research currently focuses on food insecurity, particularly using longitudinal data gathered directly from food pantries. She works with nonprofits, food banks, local governments, and state agencies on improving food assistance programs. Berner is a 2014 - 2016 UNC Thorp Engaged Faculty Fellow. She received a PhD in public policy from the LBJ School of Public Affairs, University of Texas at Austin; an MPP from Georgetown University; and a BA in global studies from the University of Iowa.
Selected publications
"Organizational Capacity of Nonprofit Social Service Agencies" with Sharon Paynter. Forthcoming, Journal of Health and Human Services Administration, Spring 2014.
Everyday Statistics for Public Managers, 2nd Edition. International City County Management Association. 2013.
Research Methods for Public Administration, 5th Edition. Elizabethann O'Sullivan, Gary Rassel and Maureen Berner. Addison Wesley Longman. 2008.
"Minority Contracting Programs: A Critical Juncture of Public Policy, Administration, Law, and Statistics." Heather Martin, Maureen Berner and Frayda Bluestein. Public Administration Review, Volume 67 Issue 3 (May/June 2007), pp. 511 – 520.
"Learning From Your Neighbor: The Value of Public Participation Evaluation for Public Policy Dispute Resolution." Maureen Berner and John Stephens. Journal of Public Deliberation. October 2011.
"What Constitutes Effective Citizen Participation in Local Government? Views from City Stakeholders." Maureen M. Berner, Justin M. Amos and Ricardo S. Morse. Public Administration Quarterly, Vol. 35 No. 1. March 2011.
Click here for a complete list of Professor Berner's publications.
History
Member for

4 years 17 weeks