Ricardo S. Morse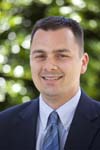 Associate Professor of Public Administration and Government
919.843.1366
Areas of Expertise
Public administration; community and regional collaboration; citizen participation; public leadership
Profile
Rick Morse joined the School of Government in 2006. He previously was assistant professor in the Public Policy and Administration Program at Iowa State University. He teaches and advises state and local public officials in the areas of collaborative governance, civic engagement, and leadership. He also teaches in the School's Master of Public Administration program. His publications include more than two dozen articles and book chapters and he is lead editor of two books on public leadership, Transforming Public Leadership for the 21st Century (M.E. Sharpe, 2007), and Innovations in Public Leadership Development (M.E. Sharpe, 2008). He also contributes to the School's Community and Economic Development blog. Morse holds a BA and MA in public policy from Brigham Young University and a PhD in public administration/public affairs from Virginia Tech. Follow him on Twitter @MorseSOG.
Selected publications
Morse, Ricardo S., and Charles R. Abernathy. 2014. Towards a Typology of Shared Services Arrangements. Forthcoming in Municipal Shared Services: A Public Solutions Handbook, ed. Alexander C. Henderson. Armonk, N.Y.: M.E. Sharpe.
Getha-Taylor, Heather, and Ricardo S. Morse. 2013. Collaborative Leadership Development for Local Government Officials: Exploring Competencies and Program Impact. Public Administration Quarterly 37 (1): 71-102.
Morse, Ricardo S. 2012. Citizens Academies: Local Governments Building Capacity for Citizen Engagement. Public Performance and Management Review 36(1): 79-101.
Heather Getha-Taylor, Maja Husar Holmes, Willow S. Jacobson, Ricardo S. Morse, and Jessica E. Sowa. 2010. Focusing the Public Leadership Lens: Research Propositions and Questions in the Minnowbrook Tradition. Journal of Public Administration Research & Theory 21(Supplement 1): i83-i98.
Ricardo S. Morse. 2010. Bill Gibson and the Art of Leading Across Boundaries. Public Administration Review 70(3): 434-442.
Ricardo S. Morse. 2010. Integrative Public Leadership: Catalyzing Collaboration to Create Public Value. The Leadership Quarterly 21(2): 231-245.
Click here for a complete list of Professor Morse's publications.
History
Member for

4 years 17 weeks