Dale J. Roenigk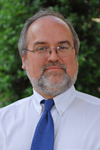 Lecturer and Director of the North Carolina Benchmarking Project
919.843.8927
Areas of Expertise
Public administration; performance management; benchmarking; evaluation
Profile
Dale Roenigk joined the School of Government in 2005 and took over the directorship of the North Carolina benchmarking project in 2006. Prior to that, he worked for the State of North Carolina Department of Health and Human Services doing program evaluation and quality monitoring for mental health services. He began his career in public service working for a policy consulting firm in Washington, DC. Earlier this year, Roenigk helped to develop the County and Municipal Fiscal Analysis tool, a web-based dashboard designed to help North Carolina local governments analyze their fiscal condition. Roenigk earned a BA from Duke University and a PhD from the University of North Carolina at Chapel Hill.
Selected publications
"Benchmarking and Interorganizational Learning in Local Government," with David N. Ammons. Journal of Public Administration Research and Theory, 25, No. 1 (January 2015), pp. 309-335.
Dale Roenigk. Final Report on City Services for Fiscal Year 2009-2010: Performance and Cost Data, University of North Carolina School of Government, February 2011.
William C. Rivenbark and Dale J. Roenigk. 2011. Implementation of Financial Condition Analysis in Local Government. Public Administration Quarterly, 35 (2): 238–264.
William Rivenbark, David Ammons and Dale Roenigk. "Benefiting from Comparative Performance Statistics in Local Government", Popular Government, Vol. 72, No. 3, Spring/Summer 2007, pp. 34-42.
Philip Berke, Dale Roenigk, Edward Kaiser, and Raymond Burby. "Enhancing Plan Quality: Evaluating the Role of State Planning Mandates for Natural Hazard Mitigation," Journal of Environmental Planning and Management, Vol. 39, No. 1, 1996, pp. 76-96.
Dale Roenigk. "Federal Disaster Relief and Local Government Financial Condition" International Journal of Mass Emergencies and Disasters, August 1993, Vol. 11, No. 2, pp. 207-225.
Click here for a complete list of of faculty member Dale Roenigk's publications.
History
Member for

4 years 17 weeks