Carl W. Stenberg III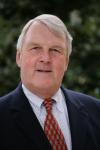 Professor of Public Administration and Government
919.962.2377
Areas of Expertise
Intergovernmental relations; leadership education and training for public officials; local government management; public management; public administration; regionalism; strategic planning
Profile
Carl Stenberg joined the School of Government in 2003. Previously, he served as dean of Yale Gordon College of Liberal Arts, University of Baltimore; director of the Weldon Cooper Center for Public Service, University of Virginia; executive director of the Council of State Governments; and assistant director of the U.S. Advisory Commission on Intergovernmental Relations. He is former feature editor of Public Administration Review and co-author of America's Future Work Force. Stenberg is a Fellow and former chair of the Board of Directors of the National Academy of Public Administration and past president of the American Society for Public Administration. He served as director of the MPA program at the School of Govenrment from 2006 to 2011. Stenberg holds a BA from Allegheny College and an MPA and a PhD from the State University of New York at Albany.
Selected Publications
"The Future of Local Government: Will Current Stresses Bring Major, Permanent Changes? State and Local Government Review (Fall 2012), with David N. Ammons and Karl W. Smith.
"An ACIR Perspective on Intergovernmental Institutional Development,"Public Administration Review (March/April 2011).
"Big Questions' about Intergovernmental Relations and Management: Who Will Address Them?" Public Administration Review (March/April 2011), with John Kincaid.
"Historic Relevance Confronting Contemporary Obsolescence? Federalism, Intergovernmental Relations and Intergovernmental Management," in Donald C. Menzel and Harvey L. White, eds., The State of Public Administration: Issues, Challenges, and Opportunities (New York: M.E. Sharpe, 2011, with Deil S. Wright and Chung-Lae Cho.
"Continuity and Change: A Ranking of Key Issues Affecting U.S. Intergovernmental Relations," (1995-2005), Publius (Fall 2009) with Carol S. Weissert and Richard L. Cole.
Click here for a complete list of Professor Stenberg's publications.
History
Member for

4 years 17 weeks